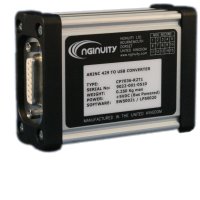 ARINC 429 to USB Avionics Interface Module (CP7036)
Product Information
The latest generation in our established range of successful ARINC to USB converter modules, the CP7036 family now provides enhanced functionality and software capabilities.
The CP7036 Avionics Interface Module allows easy acquisition and display of Avionic bus data. CP7036 has a standard Universal Serial Bus(USB) giving quick and simple installation and set up with any laptop or desktop computer.
The product range converts ARINC-429 to USB across all products and adds the ability to convert ARINC-561, ARINC-568, ARINC-575 with the higher end products. ARINC-419 mode (24 bit), is also available as standard.
All CP7036 products are provided with both our Bus Inspector Lite and Bus Inspector Pro software providing functionality to suit your needs.
Bus Inspector Lite is ideal for bench or on aircraft acquisition providing simple bus Sniff and Display™ mode for rapid automatic monitoring and acquisition of bus traffic without any set-up. Simply select the equipment type/ID to immediately see all the standard ARINC- 429 data with engineering parameter names and in full engineering units. User defined words are possible if required for non- standard/special word formats.
The received data can be displayed in both a graphical and tabular format. Bus Inspector Lite also allows quick set up of simple transmitter data tables with static data or up to 5 parameters may be configured for dynamic ramp generation. Bus Inspector Lite allows user defined engineering units conversion, and the ability to acquire data with timestamps to a file for export to spreadsheets and databases for further analysis.
Bus Inspector Pro provides full functionality ideal for system integration, verification and validation testing. Bus Inspector Pro adds fully configurable set-ups to allow display of particular labels, particular source and destination identifiers and the assembly of complex transmitter tables.
Depending on the hardware / software options chosen, Bus Inspector Pro also allows independent channel programmable bit rate (between 9.5KHz and 125KHz) and inter-word gap, simultaneous acquisition and monitor, receiver to transmitter feed through with error injection and bit wise logical AND/OR masking to provide real time in-system fault injection and tolerance testing.
The CP7036 supports up to 2048 transmitter words per channel, allowing complex bus cycles and timings to be replicated. There is no limit to the number of words which can be received / defined.
Higher end modules have the option for an extended mode of operation providing support for ARINC-561 and ARINC-568 12 volt 6 wire interfaces. These units also have the option of including 12 discrete inputs and 12 discrete outputs, which can support the encoded altitude interface.
The CP7036 family starts with a dual receiver plus single transmitter unit (ideal to go in every engineer's tool box, being small in size, high in performance and very economical in price) and extends to a unit with four channels of both transmit and receive plus the 6 wire interface plus discrete inputs/outputs. A number of other popular configurations are available in between. Each unit is available with either high impedance or opto-isolated receiver inputs, as required.
The CP7036 is ready to use straight out of the box, supplied with a USB interface cable and mating connector.
Product Features
Compact size from 92 x 68 x 34 mm
USB powered
Suitable for use with laptops & desktops
Simple to configure and set-up
Windows 2000 / XP / VISTA / 7 compatible
Supplied with Bus Inspector software
Graphical & tabular display formats
Real-time acquisition
Engineering units display
Windows API, LabView & CVI drivers available
32 bit time tag with 250uS resolution
Real time acquisition and bus monitor
Up to 4 Channel transmit and receive
Independent channel bit rate selection
ARINC-419/561/568/575 extended operating modes
Operating temperature range: -15°C To +55°C
Software
Our approach when designing the software applications, which compliment this product, was to create a simple configuration process. The application automates as much as possible the configuration process in order to make it fast and simple for a first time user, to be able to read data from the ARINC 429 Bus.
Once both the PC and the ARINC data bus are connected to the CP7036 module, the application searches the bus automatically determining the bus speed and the labels, which are present upon it.
Each label will then automatically be decoded in accordance with the ARINC 429 specification.
The received data can be displayed in either a Tabular or Graphical format.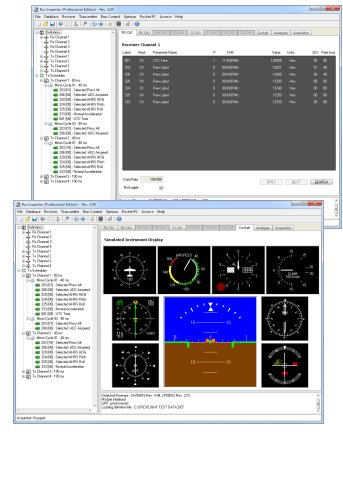 Advanced
The application allows user defined engineering unit conversion, and the ability to aquire and record data to a .csv file format for use in spreadsheets and databases. The ARINC 429 transmitter can transmit either fixed values or upto five labels can be configured to ramp between user defined values.
Graphical Presentation
A graphical presentation is included which utilises a flight instrument display format. This enables labels such as Altitude, Airspeed, Rate of climb, Heading etc, to be displayed as shown.
Drivers
Software libraries and drivers are available for Windows API, LabView and CVI, to allow integration in an automatic test systems and bespoke applications.
Versions Available
CP7036-R2T1-HIZ
CP7036-R2T2-HIZ
CP7036-R2T2-ISO
CP7036-R4T4-HIZ-2W-N
CP7036-R4T4-ISO-2W-N
CP7036-R4T4-HIZ-6W-N
CP7036-R4T4-ISO-6W-N
CP7036-R4T4-HIZ-6W-D
CP7036-R4T4-ISO-6W-D
Please see our ARINC-429 product selector guide or contact us for full details.
Click here to download our product data sheet

(667.23 KB) EN

Please contact us for a quotation sales@nginuity.com
Please note due to the current worldwide electronic component shortage, all CP7036 products currently have a 6 week lead time.
All prices include worldwide delivery. VAT invoices provided for UK shipments. Shipping terms: DAP (Incoterm 2010).